Click the pictures at left for specific information for your type of pet.
Important Guidlelines to Follow:
---
Always use 100% pur therapeutic or medicinal grade essentials oils, I only use and recommend doTERRA. - Dilute EO's with a natural organic oil (such as coconut). - Do not use in eyes , ears, or noses. If this happens use a carrier oil to flush, NOT water. - It is important to teach our pets about EO's BEFORE applying topically or using internally. - Do NOT put bottle in your pets face to see if they "like it". - Essential Oils do not build up in the system, they are very concentrated. - Apply small amouts more frequently, rather than using a lot at one time. - Pure essential oils do not stain clothing or bedding, however a carrier oil may. - Carrier oils may make your pets coat skicky or knotted and may transfer to rugs/furniture. - Pure EO's should not be heated or burned, this destroys their therapeutic properties.
---
How to Introduce Your Dogs Properly:
---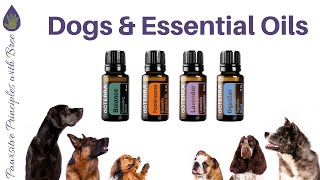 Care must be taken to properly introduce your dog to the use of essential oils. Watch our video breakdown on how to do it, as well as how to fix it if your pet already has a negative association. Though this video is made with dogs in mind, it can be used for all animals.
---
Epileptic & Seizure Prone Animals:
---
Special concern should be taken as it is believed that certian oils such as: Rosemary, Fennel, Sage, Eucalyptus, Hyssop, and Camphorare may trigger a response. This has been studied in people, though not clinically researched in pets, it is best to err on the side of caution.
---
Bleeding Disorders:
---
Consulting your veterinarian is best when wanting to add EO's to their health regimen. Topical application of Wintergreen, Cassia, Blue Tansy, Fennel, Clove, Cinnamon, Oregano, and Sweet Birch should be avoided. Though it is published that diffusing said oils are still safe.
---
Pregnant Pets:
---
Care should be taken when using essential oils with pregnant pets. Following the guidelines set for human pregnancy is relevent. Dilute: Clove, Cypress, Eucalyptus, Ginger, Marjoram, Oregano, Peppermint. Consult your veterinarian for use with: Basil, Cassia, Cinnamon Bark, Clary Sage, Lemongrass, Rosemary, Thyme, Vetiver, Wintergreen, and White Fir. Note - mint may decrease milk production.
---
The Best Way to Use Essential Oils:
---
AROMATIC - Inhale or use diffuser. Best option for behavior modification, mood changing, cleaning the air, and to ease breathing. TOPICAL - Apply to rear pads, area of discomfort, petting of the fur, or message. Great for immune support, and to provide immediate comfort. It is absorbed through the hair follicles, and does not need to be applied directly to the skin. Acclimation prior to use is very important. INTERNAL - Not recommended for cats. Add to food, or give in a capsule. I personally do not recommend adding to the water dish, as oil and water separate.
---
---